This is a story from back in August 2018. It was a busy day, as is usual nowadays at the Kaulige Foods kitchen. I was driving our staff, trying to ensure that food is checked for quality and delivered on time.
In midst of all the hustle and bustle, I got a call from Joanna, who introduced herself as a journalist from Goa who was interested in Millets. We talked for a few minutes about our work with Millets and our Millet restaurant and requested us to help a certain Mr. Boaz, who was to visit Bengaluru in a week with the aim of photographing our humble eatery and millet dishes. This was for an article to be published in the in-house magazine of Korean Air. I replied in the affirmative but as fate would have it, I soon forgot all about the call!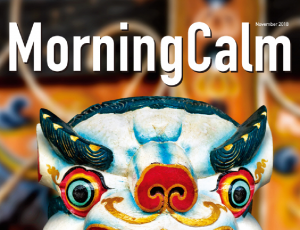 A week or so later, I was at a meeting elsewhere when I get a call from one of my staff members that a tall well-built Caucasian man had walked into Kaulige Millet Corner and wanted to speak to me. I was puzzled – I didn't know anybody of that description. Only when I spoke to him and he introduced himself as Boaz and told me that Joanna had referred him to Kaulige Millet Corner that things fell in place…well almost. Thankfully, I was not far & so I finished my meeting and hurried back. He was just settling down and talking to the staff animatedly when I found him. I introduced myself and told that I had spoken to Joanna about he could photograph our famous Millet thali, with a feeling of immense pride!
But Boaz had something else in mind, he wanted to photograph the various stages of cooking and not just the final product. To add to the problem, he couldn't wait since he had to travel the same evening and this was a situation I wasn't prepared for, for the food was already prepared for the day.
Not wanting to disappoint, I spoke with my chef about what can be made quickly and asked him dish out some millet cutlets. Boaz's photography skills were at display wherein he took the snaps as per his liking and of the various cooking stages.
Post the photography and some filling millet food, a visibly satisfied and relieved Boaz left Kaulige Millet Corner, with a promise that he would share the link in case the article would be published.
The whole affair had slipped out of my mind until a few days back when I got a message from Boaz that the article on us had been published! Lo and Behold! Kaulige Millet Corer is featured in the Korean Air magazine, "Morning Calm". This is yet another milestone achieved in the Kaulige Foods' journey – being featured in a magazine in a foreign country.
You can find the recipe for Millet Cutlets here. Thanks for reading!
– Arun Kaulige, Co-founder, Kaulige Foods
Excerpts from the Magazine