We support Millet Farmers
At Kaulige Foods, we are at the forefront of the Millet revival in India. One of our biggest considerations while this revival is taking place is that farmers should benefit from the movement – it shouldn't be a consumer-driven movement but a movement built from the ground-up with farmers being the primary stakeholders.
In order to make this a reality, we have partnered with like-minded organisations and have created a millet value-chain which reaches all the way to the farmer. Our partner in this initiative is Earth360.
Earth360 works with small and marginal farmers, promoting eco-friendly sustainable practices for growing millets. We work with Earth360 at every level to make sure that all our products are grown, processed and stored in an eco-friendly, chemical-free, natural manner; so that the consumer gets the millets in the most nutritious unpolished, whole grain form.
One such story is that of Venkata Reddy from  Village of Anantapur District, an elderly farmer from Kadiri area. He had been doing mono cropping of Ground-nuts for the past 30 years, like rest of the 5 lakh farming households in Anantapur, who are now in distress. As we all know, Anathapur is the second most drought prone district in India after Jaisalmer. The farmers of this area traditional had been growing a wide range of Millet Crops, which are rain-fed and drought resistant. However, things changed post the green revolution of the 1960s and 70s, as the government subsidized paddy rice and supported it extensively, impacting the local food culture and market for millets.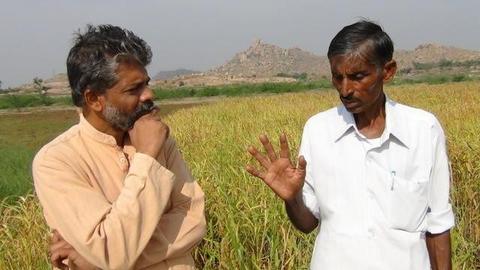 In the past, Venkata reddy and farmers of this area used to have several techniques for maintaining the soil like using tank silt, farm yard manure, sheep penning etc. They had evolved a highly effective cropping pattern with legume and cereals(like millets) to maintain soil fertility. Somewhere along the line, these practices were discontinued due to unknown reasons, maybe economics and changing food patterns.
Dinesh from Earth360 met Venkata Reddy and was able to convince him to start growing Millets in a part of his land. Both the seeds and knowledge of traditional farming practices, such as multiple crops and crop rotation, were shared between the two. Venkata Reddy found millets to be hardy and did not have any major problem with pests. As it is rain-fed, it required very less water. In the next few years, the low investment and high yields, along with the marketing and processing support provided by Earth360 and Kaulige Foods, convinced Venkata to start cultivating Millets in all his land.
Today, Venkata reddy is a happy farmer, he is promoting millets and his story has inspired other farmers in his village and the neighboring villages to start cultivating millets after more than three decades.
In the past 10 years and as of today we have reached over 1000 farmers of which a majority are small and marginal. We are looking to reach out to lakhs of such farmers in future.